I used to never, ever read the comments people make in cyberspace. We've all heard how toxic the conversation can be when commenters get to say whatever they want with the safety of distance and anonymity of the internet.
But now I read the comments and - besides the ugliness - I'm discovering some hopeful respectful connections in places I never would have imagined.
I volunteer with Coffee Party USA and one of my jobs is to post blogs and articles to our Join the Coffee Party Movement Facebook page.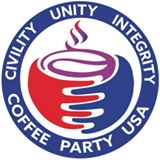 A dozen of us editors keep the page populated with content we believe is worthy of discussion, every hour on the hour, 24/7. Our Coffee Party Facebook page has over a million followers and we volunteers take our work very seriously. The things I post usually don't garner much attention since I circulate articles that encourage people to disagree agreeably, to respect differences and to collaborate constructively.
In today's polarized, angry culture, you can bet a message of civility will fall on deaf ears much of the time.
But I had an experience recently on our Join the Coffee Party Movement page that completely blindsided me ...
Keep reading at Intersections: Faith Politics Culture
Do you like this post?